Supporters Clubs Empresario
Joined

Feb 3, 2009
Messages

11,911
Reaction score

3,387
Molineux Mix - 17.06.2022

Welcome to the Wolves Supporters Clubs Mol Mix List!



77 Wolves Official & Independent Supporters Clubs

★

Worldwide
A growing list of Wolves Supporters Clubs, started on 20th August 2017.
An Information Centre to help Wolves fans connect with clubs all over the world.
A reference/archive/contact point. A place of memories, where fans can enjoy looking back.
On 20th October 2018, Worldwide Wolves Official Supporters Club were formed.
Wolves Independent Supporters Clubs and newly formed clubs are welcome to join.
Latest - Supporters Clubs information updated on 1st January, 2022.
NEW WOLVES SUPPORTERS CLUB

★

11 CALGARY WOLVES : CANADA





WORLDWIDE WOLVES OFFICIAL SUPPORTERS CLUB

★

WOLVERHAMPTON (JOIN TODAY!)




LATEST WWW LOUNGE VISIT PHOTOS - LEGENDS ALLY ROBERTSON, MATT MURRAY, STEVE FROGGATT

★

PLEASE SCROLL DOWN PAGE 2



CHICAGO MEET OF USA BRANCHES
Inaugural Wolves Watch Party heading to Chicago
United States-based supporters will gather together in Chicago between 13th and 15th May 2022.
Entry for the event, which will be hosted at The Piggery Chicago, is completely free – supporters are simply asked to register their interest by clicking here.
George Elokobi will be representing Wolves throughout the Chicago weekend of activities in USA, based around the Norwich City game.

15.05.2022 : Wolves @Wolves - Big thanks to the Chicago Supporters Club and everyone else who came to our watch party at the weekend.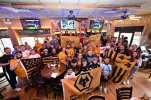 PLEASE SCROLL DOWN FOR WORLDWIDE WOLVES BRANCH NEWS : 2019/20, 2020/21, 2021/22. BRANCH PHOTOS REGULARLY ADDED!

In addition to the Worldwide Wolves website, Wolves Supporters Clubs across the world will continue to be added to the Mol Mix List.
Started as a fan initiative, to help clubs get more exposure when there was little information out there, it has since grown to 77.
All inclusive : Official and Independent Wolves Supporters Clubs added to the list. No matter how big or small you are.
Please message Berlin Wolf with your club information for inclusion, it would be brilliant to add you, thank you.

My thanks to Mutchy, bod101, OsloWolf, Alan Perrins, Wayne Devaney and WWW Branch Chairman for their help and support.
Many thanks too Wolves fans, for your interest in the Mol Mix List - best viewed on a laptop.

UTW.
Berlin Wolf
MOLINEUX MIX LIST : 77 WOLVES OFFICIAL & INDEPENDANT SUPPORTERS CLUBS WORLDWIDE
★
20TH AUGUST 2017