Supporters Clubs Empresario
Joined

Feb 3, 2009
Messages

11,911
Reaction score

3,387
WOLVERHAMPTON WANDERERS
KALAMATA WOLVES (GREECE)
GREECE
FOUNDED 2016
CLUB MEMBERS : 20
CONTACT : Club Admin
WEBSITE : No
FACEBOOK :

WOLVES FC GREEK FANS


FACEBOOK FOLLOWERS : 718
FANZINE : No
UPDATED : 01.01.2022

152 KALAMATA WOLVES (GREECE) ★ WORLDWIDE WOLVES OFFICIAL SUPPORTERS CLUB BRANCH

Club Focus

Intro
Kalamata Wolves (WOLVES FC GREEK FANS FB) cater for Wolves support based in Kalamata, Messenia - and across the Peloponnese peninsula in Southern Greece.
Club Administration routinely update their notice board with daily Wolves news, giving local and distant followers great coverage of WWFC.
The Kalamata based club are independent from their Hellenic counterparts based in the Greek capital of Athens.

Branch
World

W

ide

W

olves Branch : 152 Kalamata Wolves (Greece)
Season 2019/20 : Kalamata Wolves (Greece) became an Official Branch of Worldwide Wolves.
Manager Alan Perrins welcomed Chairman Giorgos Tsigaras from Kalamata in Greece, allocating Branch No.152.
Description : Μια Σελίδα για όλα τα νέα τις Γουλβς καθημερινά για όλους τους φίλους τις ομάδας με πολύ μεράκι
Translation : A Page for all the news Wolves daily for all the group friends with a lot of love
Follows
WOLVES FC GREEK FANS
Kalamata based followers : Please

SEND MESSAGE

re: Wolves LIVE TV matches.
Prospective Followers : Please

FOLLOW

on the Facebook Group which acts as a platform for the Supporters Club.
Contact
Messenger : @WFCGF

Facebook
Group Discussion is managed on a daily basis by the Club Administration.
The Kalamata based Group was created on 9th October 2016.

KALAMATA WOLVES

★

FOUNDED 9TH OCTOBER 2016

Gallery
WOLVES FC GREEK FANS : Profile Picture 1 of 6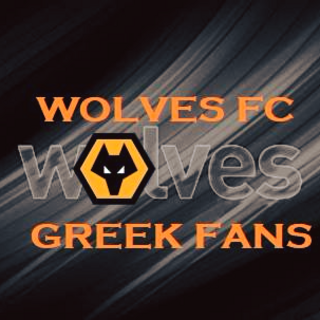 WOLVES FC GREEK FANS : Updated Cover Photo