Supporters Clubs Empresario
Joined

Feb 3, 2009
Messages

11,911
Reaction score

3,387
WOLVERHAMPTON WANDERERS
HATHERTON SUPPORTERS CLUB
ENGLAND
FOUNDED 1988
CLUB MEMBERS : 1,000+
CONTACT : RUSS EVERS
WEBSITE : HATHERTON WOLVES
FACEBOOK : HATHERTON WOLVES
FACEBOOK MEMBERS : 1,968
FANZINE : No
UPDATED : 01.01.2022

Club Focus

Intro
Hatherton Wolves are the largest independent Wolverhampton Wanderers Supporters Club of the finest football team in the world.
Formed in February 1988. The club was named after their base, the Hatherton Arms pub, close to Molineux, in Wolverhampton.
In February 2019, Hatherton Wolves launched their club website which primarily revolves around away match coach travel.
Club Admin have set up a monthly archive section too, reflecting upon matches attended, and makes for a good read.

Change
Memberships - Hatherton Wolves no longer offer memberships, or insist that you are a member of Hatherton Wolves,
as they currently run this as a travel club only.



HATHERTON WOLVES - INDEPENDENTLY SUPPORTING WOLVES FC SINCE 1988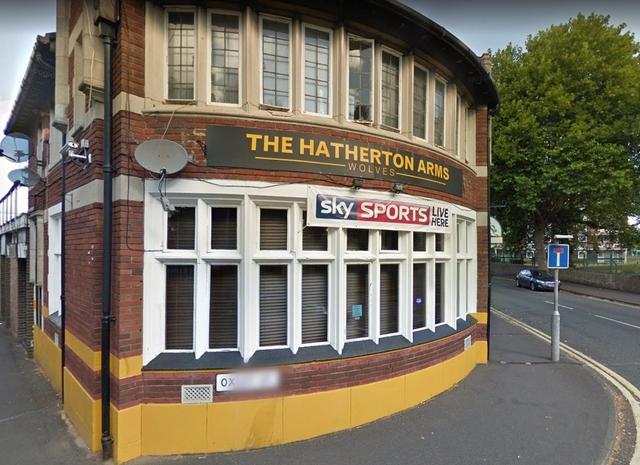 Travel
Hatherton Wolves are famous for their away match travel, generally filling two or three coaches for each game.
Over 30 years, the Hatherton club have run trips to 127 grounds in Britain and Ireland, not including those abroad

Hatherton Wolves Away Travel 2021-2022 : Contact the club via their FB or Website for further info


17.07.2019 : Asia Trophy Semi - Hatherton Wolves flag in Nanjing, China for Wolves v Newcastle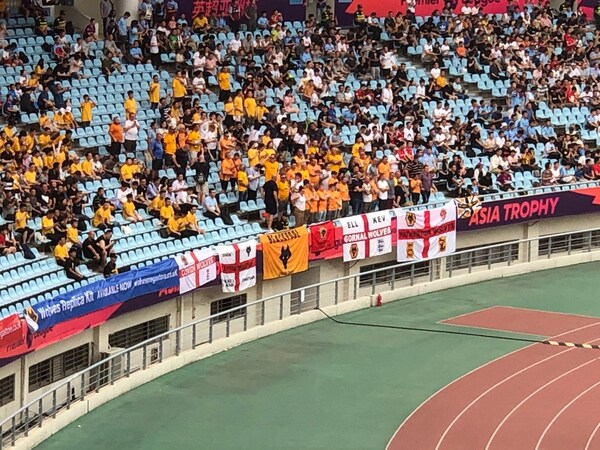 20.07.2019 : Asia Trophy Final - Hatherton Wolves flag in Shanghai, China for Wolves v Man City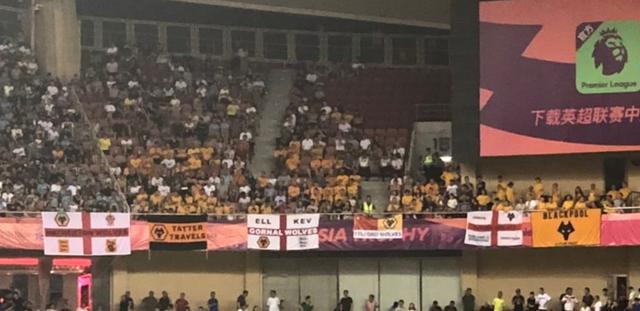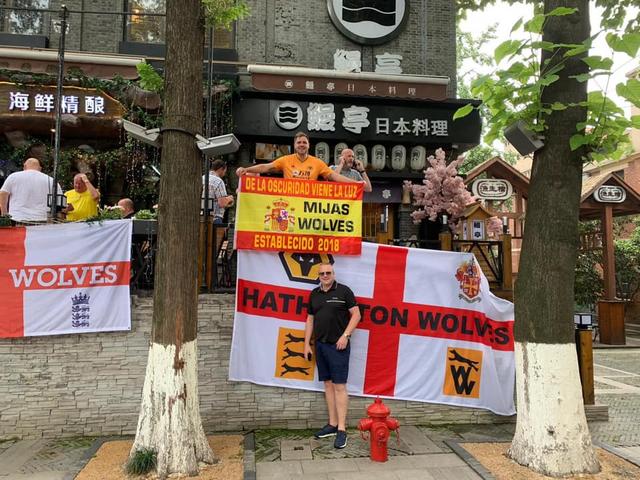 08.08.2019 : Hatherton Wolves flag - E&S picture of Wolves flags in Yerevan for FC Pyunik v Wolves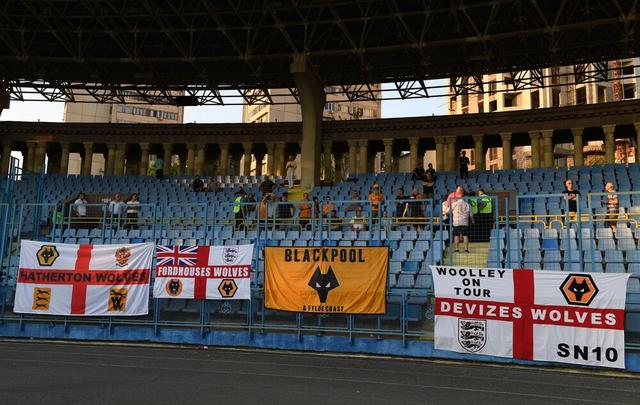 Badges
Hatherton Wolves have issued two different small round club badges for members.
In March 2018, the club issued a 100 Limited Edition set, of four badges in each set.
Priced at £10 per set, they attracted great interest, and quickly sold out to members.
New b

adge picture : Please see Badge 2 of 4 in the Gallery below..

Flag
The dynamic Hatherton Wolves flag is displayed at Wolves away matches in the UK and Abroad.
The flag was flown on the Wolves Supporters Clubs Parade before the Preston home game on 7th May 2017.
The flag was again on display at the Wolves Supporters Clubs Parade before the Sheffield Wednesday home game on 28th April 2018.

Feature
Hatherton Wolves 30th anniversary
COACH UPDATE 11 02 2018 : ALL FOUR COACHES TO PRESTON ARE SOLD OUT
Four coaches to Preston North End away on 17 02 2018. Wolves ticket allocation 5,626.
Two coaches straight back after the game (£16). Two coaches to Blackpool after the game (£20).

Books
Hatherton Wolves have published two books..

EVERYWHERE WE GO
The first 30 years of HATHERTON WOLVES

A book about capturing the support of people who have travelled with Hatherton Wolves.
The Express and Star ran two stories featuring the book - and the driving force behind its creation.

Price : 10 GBP
Number of copies : 306
Author : Russ Evers
Book Launch : Molineux - 5th May 2017

Copies were available through the Hatherton Wolves Facebook page and on eBay. The book was snapped up by Wolves fans, and quickly sold out. A future collectors item..

HOW DO WE GET THERE?
WOLVES AGAINST THE WORLD

Founder of Hatherton Wolves, Russ Evers, has written his second book on Wolves following the 2017 release of Everywhere We Go: Hatherton Wolves.
The new book, titled How Do We Get There – Wolves Against The World, looks at the group's travels overseas following Wolves.
It also employs the help of former goalkeeper Phil Parkes who looks at the club's exploits in Europe in the 1970's.

The Express and Star ran a story on the book - A new book is being launched detailing the adventures of a Wolves supporters group following the club around the globe.

Media
Wolverhampton newspaper coverage..
11 04 2017 : Express & Star - Wolves fans' book all set for kick-off
17 05 2017 : Express & Star - "Hatherton Wolves is always worth it" – 30 years of Wolves loyalty
10 09 2021 : Express & Star - New Hatherton Wolves book details club's global adventures
29.10.2021 : Express & Star - Wolves' European trips are brought to book by Russ

Membership
Hatherton Wolves
Prospective Travel Club travellers : Please see the Hatherton Wolves website..
Prospective Facebook members : Please

JOIN

on the Facebook Group to post and comment.
Hatherton Wolves no longer offer memberships, or insist that you are a member of Hatherton Wolves, as they currently run this as a travel club only.

Facebook
Admins 1 : Founder Member Russ Evers.
Russ created the Group on 24th June 2012.

HATHERTON WOLVES

★

FOUNDED FEBRUARY 1988

Gallery
Hatherton Arms Pub HQ close to Molineux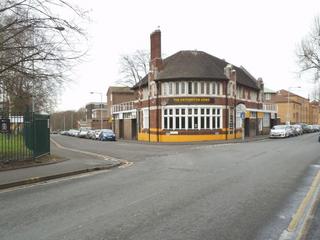 Hatherton Wolves flag : Bern - Swiss Tour 2018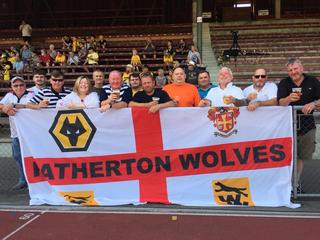 Hatherton Wolves flag : WSC Parade 2018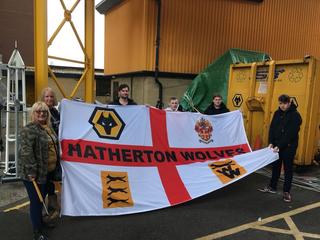 Hatherton Wolves flag : Austria Tour 2017
Hatherton Wolves flag : WSC Parade 2017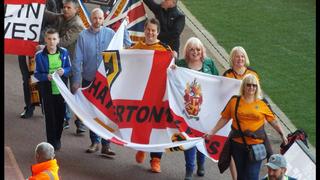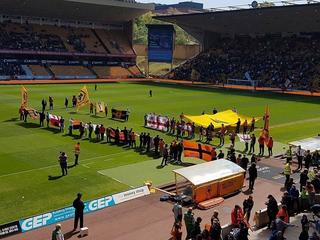 Russ Evers & his first book : EVERYWHERE WE GO - The first 30 years of HATHERTON WOLVES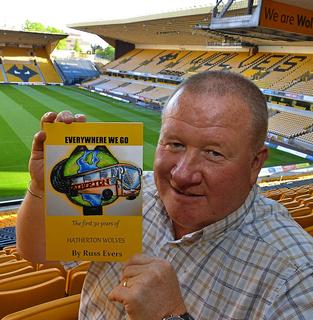 Russ Evers & his second book : HOW DO WE GET THERE? - WOLVES AGAINST THE WORLD


Wolves Against The World : Russ Evers from Chapel Ash. With him, former Wolves Goalie Phil Parkes




15.10.2021 : 'How Do We Get There - Wolves Against The World' book release date press info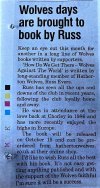 Badge 2 of 4 small and subtle, it reads.. HATHERTON WOLVES SINCE 1988 IF YOU KNOW YOU KNOW