Supporters Clubs Empresario
Joined

Feb 3, 2009
Messages

11,911
Reaction score

3,387
WOLVERHAMPTON WANDERERS
EDMONTON WOLVES SUPPORTERS CLUB
CANADA
FOUNDED 2012
CLUB MEMBERS : 17
CONTACTS : Ian Burnet, Jeremy Nicholls
WEBSITE : No
FACEBOOK :
Edmonton Wolves FC Supporters Club
FACEBOOK MEMBERS : 17
FANZINE : No
UPDATED : 01.01.2022
101 EDMONTON WOLVES
★
WORLDWIDE WOLVES OFFICIAL SUPPORTERS CLUB BRANCH

Club Focus

Intro
The Facebook Group is the platform for Wolves support based in the Edmonton area, and members meet in The Pint of Whyte on a regular basis.
Founded in 2012, Edmonton Wolves Supporters Club has attracted seventeen members, locals and ex-pats, based in the western province of Alberta.
Established as an Official Worldwide Wolves Branch in 2018, Club Chairman Jeremy Nicholls aims to build-up the Branch around pub meetings in the city.
Edmonton Wolves Branch information shows new Chairman Ian Burnet leading the club, but, it is known Jeremy Nicholls continues to be active in club affairs.
Branch
W
orld
W
ide
W
olves Branch : 101 Edmonton Wolves
Season 2018/2019 : Edmonton Wolves became an Official Branch of Worldwide Wolves.
Manager Alan Perrins welcomed Chairman Jeremy Nicholls from Alberta in Canada, allocating Branch No. 101.

Canada
Awarded Official Branch status in late 2018, Edmonton Wolves join neighbours Calgary Wolves, spreading the Wolves name in the province of Alberta.
An Independent Facebook Group WW Wolves of Canada caters for fans spread across the 10 provinces and three territories representing Canada Wolves fans.



DAZN
WOLVES ON PAYTV : PREMIER LEAGUE 2021/22
Please consult the DAZN SCHEDULE for all Wolves matches @ Local Time in Canada over the season.
DAZN : Broadcast LIVE or DELAYED to six countries outside the UK - In Germany, Austria, Switzerland, Italy, CANADA and Japan.
DAZN, the global sports streaming service, will stream every match of the English Premier League 2021-2022 season in Canada.
DAZN has exclusive live media rights for coverage of the Premier League in Canada for the three seasons between 2019 and 2022.

Membership
Edmonton Wolves Supporters Club
The club promotes Wolverhampton Wanderers in Edmonton, Alberta, Canada.
Prospective members : Please can contact Ian by clicking the Worldwide Wolves link above.
Prospective members : Please

JOIN

the Facebook Group, which is a platform for the Supporters Club.

Contacts
Jeremy Nicholls : Edmonton Wolves Facebook Admin
Ian Burnett : Worldwide Wolves Official Edmonton Branch Chairman

Facebook
Group Discussion is between locally based members.
Admins and Moderators 2 : James Darby, Jeremy Nicholls
Founder Member Pete M Hyde created the Group on 6th September 2011.

EDMONTON WOLVES SUPPORTERS CLUB
★
FOUNDED 2012
Gallery
Edmonton Wolves SC : Official Club logo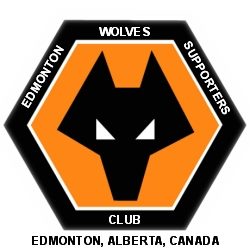 11.08.2018 : Edmonton Wolves SC - Get Together : First match meet in the Prem @ Wolves v Everton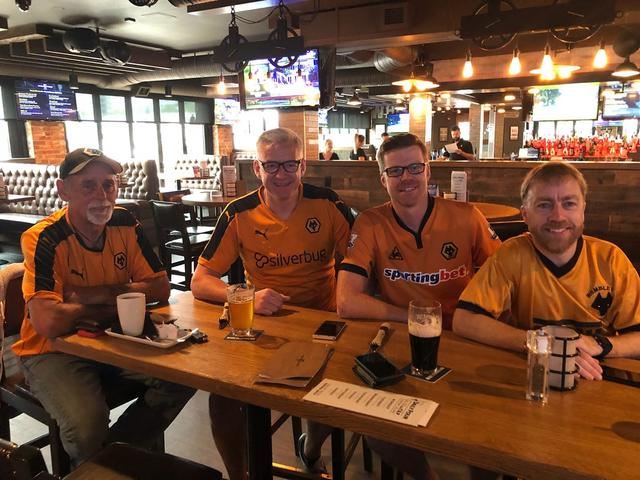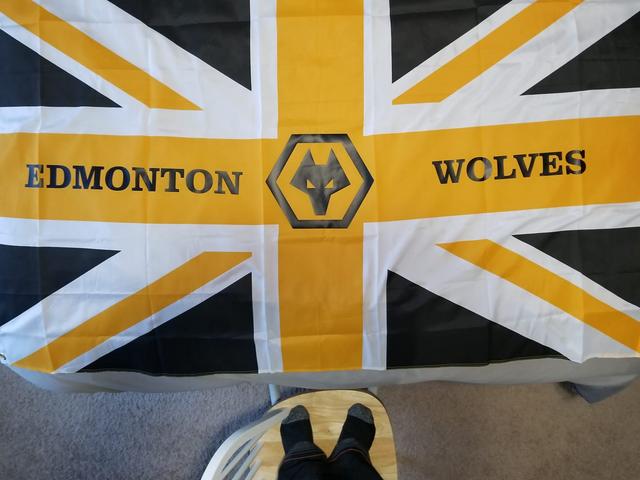 16.03.2019 : Edmonton Wolves..We may be small in numbers but we love this club! @
FAC v Man Utd