Supporters Clubs Empresario
Joined

Feb 3, 2009
Messages

11,911
Reaction score

3,387
WOLVERHAMPTON WANDERERS
DDCWWFCSC
ENGLAND
FOUNDED 1975
CLUB MEMBERS : 164
CONTACT : Chris Cox
WEBSITE :
DDCWWFCSC
FACEBOOK : No
FANZINE : No
UPDATED : 01.01.2022
012 DAVENTRY WOLVES
★
WORLDWIDE WOLVES OFFICIAL SUPPORTERS CLUB BRANCH

Club Focus

Intro
First Honorary Member : Mike Bailey
Founder Members : Richard Meacock, Frank Hobbs, Chris Cox
Chairman : Chris Cox / President : Richard Meacock / Secretary : Owen Hughes / Ticket Officer : Simon Yates

Daventry Wolves provide a very strong sense of community.
A group of people with a common love of Wolverhampton Wanderers, and often real ale too.
Who attend matches, socialise with the other members, lift share, and help each other out.
Branch
W

orld

W

ideWolves Branch : 012 Daventry Wolves
Season 2018/2019 : Daventry Wolves became an Official Branch of Worldwide Wolves.
Manager Alan Perrins welcomed Chairman Chris Cox from Daventry in England, allocating Branch No. 012.

DDCWWFCSC
Daventry Dun Cow Wolverhampton Wanderers Football Club Supporters Club aka Daventry Wolves
The DDCWWFCSC was founded on the 3rd October 1975 by Richard Meacock, Frank Hobbs and Chris Cox in the Top Bar of the Dun Cow, Brook Street, Daventry.
It was Richard's idea to form the club, and it was quickly decided that subscriptions should be set at 15p per week, the price of a pint!
Richard then had the plan that the subs should go towards an end of season dinner to be held in the Restaurant in the rear of the Dun Cow.
That season membership grew through word of mouth, a Dinner was held in the restaurant, and the then Wolves Captain Mike Bailey and his wife Barbara attended.

About
For more information about the DDCWWFCSC - Please visit Daventry Wolves excellent website.

Pub
Members meet in the Great Weston Pub in Sun Street, Wolverhampton before home games.
Most of them are usually found in Chris Cox's Office, the large conservatory area at the rear of the pub.

Feature
KENNY HIBBITT - SEASONS OF MY LIFE - BOOK SIGNING
16.09.2018 : Daventry Wolves hosted Kenny Hibbitt for a book signing session in the Great Weston before the Burnley game.
A steady queue of Wolves fans waited patiently while Kenny chatted to buyers, and happily posed for photo's in the conservatory.

Flag
The gigantic DDCWWFCSC gold flag gained fame for regularly being unravelled in the old Stan Cullis stand by members back in the 1990s & 2000s.
Seldom seen @ Molineux since, it made a welcome return at the Wolves Supporters Clubs Parade before the Preston home game on 7th May 2017.
The gigantic flag was cancelled due to the rainy weather forecast for the Wolves Supporters Clubs Parade before the Sheffield Wednesday home game on 28th April 2018.
Half a dozen members, including Chairman Chris Cox, represented the club on the Parade, each carrying a gold WE ARE BACK flag, walking as a group around the Molineux pitch.

History
The North Bank - Daventry Wolves spiritual home
For years, club membership had come together on the terraces of the old North Bank.
The D.D.C.W.W.F.C.S.C. weekly newsletter was handed out to members at the back of the North Bank, and at away matches, by Chris.
Then, after closure for safety reasons, members decamped to the old South Bank.
But the North Bank was the club spiritual home, and members moved back north into the new Stan Cullis Stand in 1993.
Where the club has remained to this day, most sitting together in a block of over 60 seats for members and guests.
D.D.C.W.W.F.C.S.C. set to celebrate their 25th anniversary in style @ Molineux
Daventry Wolves, founded in the Dun Cow on 3rd October 1975, are set to celebrate their 25th Anniversary in style in the Hayward Suite at Molineux on 28th October 2000.
A five course meal is being served and band, Curtis Little and the Receivers who have played at Ronnie Scott's, are live on stage. If their 21st Anniversary is anything to go by, then their Silver Anniversary promises to be a cracker. The Daventry Dun Cow Wolverhampton Wanderers Football Club Supporters Club have members from across the UK, Cyprus, the United States and even Australia. Chairman Chris Cox reports the club is thriving and membership is healthier now than it ever has been. The club have a block of over 50 season tickets in the Stan Cullis Stand, and 85% of their membership are Season Ticket Holders.
Before home games members meet in the Great Weston in Sun Street, and many are real ale enthusiasts, hence the name Great Weston. Their famous club flag came out when the new North Bank opened, and occasionally makes an appearance for cup ties. Daventry Wolves have gathered some prominent Honorary Life Members over the years. Like John Richards, John Humphrey, Graham Turner, Don Goodman, and Neil Emblen. Members cast their vote for MOTM after each game which count towards their Player of the Season award. Winners of the award are invited to attend the club`s annual dinners.
Handbook
Wolverhampton Wanderers Official Supporters Club Handbook 1984 : No.1 D.D.C.W.W.F.C.S.C. - Daventry Branch - See Gallery below..

Contact
Website or Great Weston Pub : Chairman - Chris Cox

Membership
Daventry Wolves - DDCWWFCSC
APPLY TO JOIN CLUB

: Prospective members can apply via the Worldwide Wolves link above.

DDCWWFCSC

★

FOUNDED 3RD OCTOBER 1975

Gallery
04.05.2019 : Daventry Wolves Simon Cox represented UK Wolves in a 4-1 victory v Overseas Wolves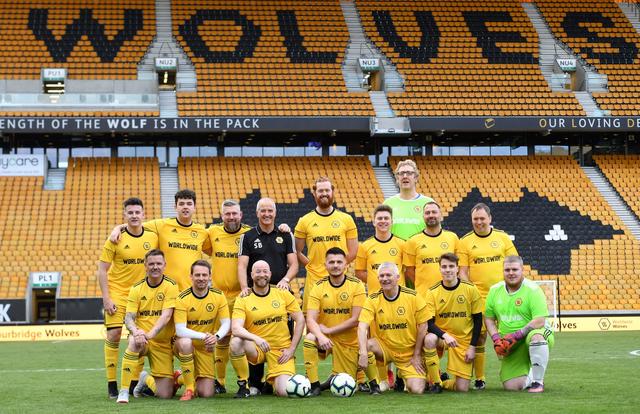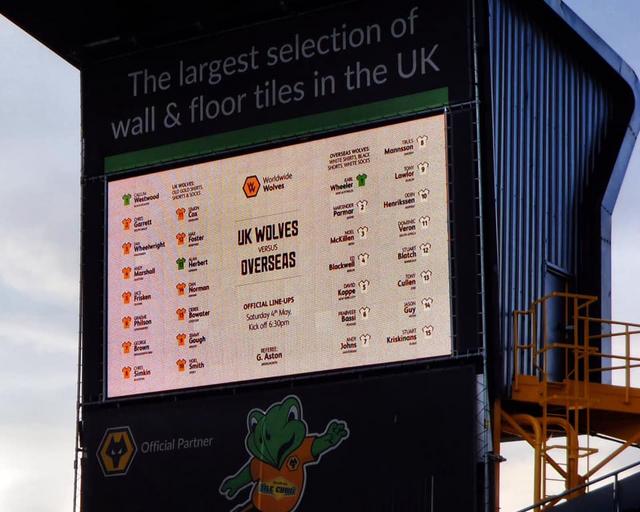 Daventry Wolves DDCWWFCSC flag : The Gigantic One.. @ Wolves Supporters Clubs Parade 2017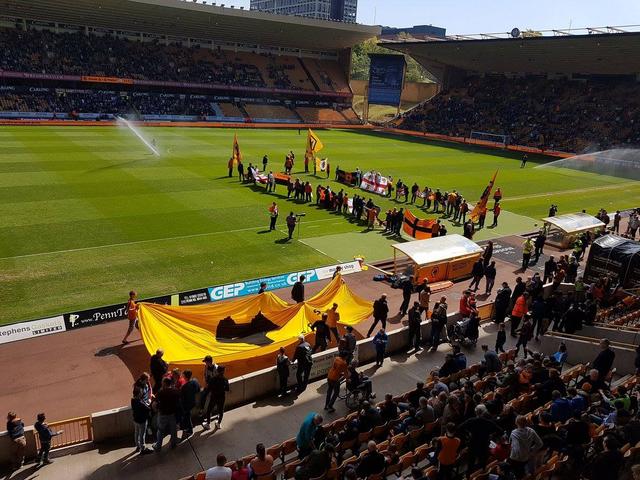 The Daventry Wolves flag paraded on the Molineux pitch : Stretched out by eight club members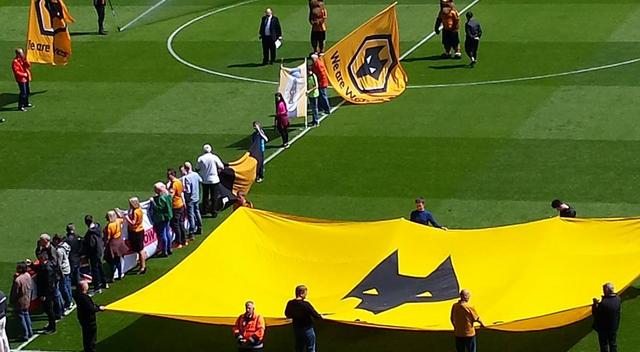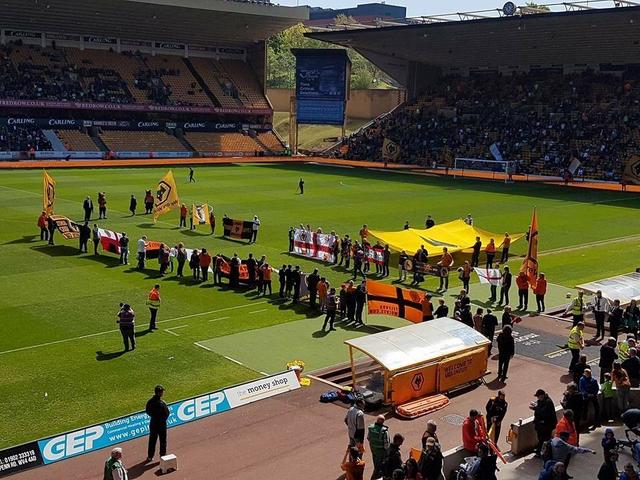 The Wolverhampton Wanderers Official Supporters Club Handbook 1984 : No.1 D.D.C.W.W.F.C.S.C.