Supporters Clubs Empresario
Joined

Feb 3, 2009
Messages

11,911
Reaction score

3,387
WOLVERHAMPTON WANDERERS
CANNOCK WOLVES SUPPORTERS CLUB
ENGLAND
FOUNDED 1977
CLUB MEMBERS : 200
CONTACT : Steve Bishop
WEBSITE :

Cannock Wolves Supporters Club


FACEBOOK :

Cannock Wolves


FACEBOOK MEMBERS : 887
FANZINE : No
UPDATED : 01.01.2022

Club Focus

Intro
Cannock Wolves : This famous club were formed over 40 years ago.
A thriving club is dedicated to serving Wolverhampton Wanderers.
It caters for Wolves supporters in the Cannock Chase area.

Travel
The main activity of the organisation is to provide travel to Wolves away matches.


Please see Travel Arrangements for Away Matches via the club website.


Latest Travel News via the Cannock Wolves Facebook Group.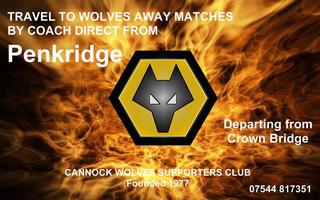 Armenia
Wolverhampton newspaper coverage..
Cannock Wolves Chairman Steve Bishop travelled to Armenia for Pyunik v Wolves..
14 08 2019 : Express & Star - Wolves fan travels 6,000 miles – for 18 minutes of football
15 08 2019 : Express & Star - Wolves fans thanked by Conor Coady for making Armenia trip



Nuno Espirito Santo said of Steve's plight..


"I'm sorry for him but at least he saw something!"


"The last 18 minutes were good and he was able to celebrate in the end, good for him."



Wembley
25.03.2019 : FA Cup S/F Watford v Wolves 7th April 2019 - Wembley Update - Waiting List
11 coaches full, no prospect of hiring any more. I have about 50 on a waiting list in case anyone backs out.
I will not be recording any more names on it, as I can't see any prospect for them on this occasion.
Obviously, I will keep the waiting list I have in case I get space.
Otherwise, I suggest you try other options. Wolves official travel obviously are running coaches.
Zeelo on Facebook are the only independent operators I'm aware of that are still selling seats.

Feature
Cannock Wolves take big away following to Preston
Four coaches were filled, taking 200 fans to the Preston North End away game on 17th February, 2018.
The trip included a pre-match stop in Leyland, before being part of a massive 5,626 Wolves following at Deepdale.
History
Cannock Wolves - Over 40 years of support
Cannock Wolves was founded in the summer of 1977 following Wolves' success in winning the old Second Division championship.
That makes them the fourth oldest of Wolves supporters clubs behind London Wolves (1966), Daventry Wolves (1975) & Telford Wolves (1976).
In all its years, well over 1,000 fans have been members of Cannock Wolves.
In the Cannock Chase area, Wolverhampton Wanderers are, by far, the best supported football club.
That is clearly reflected in the durability of the supporters' club.

Badges
Badge collectors will know that Cannock Wolves have issued a small pair of yellow and black round badges, bearing the club name.

Flags
Two Cannock Wolves flags made an appearance at the Wolves Supporters Clubs Parade before the Preston home game on 7th May 2017.
Cannock Wolves flew two Champions 2018 banners at the Wolves Supporters Clubs Parade before the Sheffield Wednesday home game on 28th April 2018.

CANNOCK WOLVES : Champions 2018 Cannock Wolves On Tour Sticker Label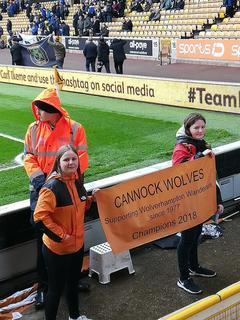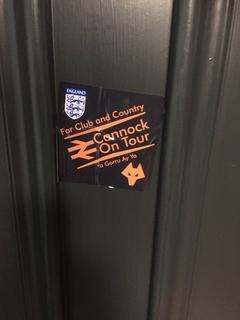 Membership
Joining Cannock Wolves is free.
Members must pay an annual membership subscription, which is just £2.00 for full members and £1.00 for junior members.
More membership information via the club website.

Website
Contact : Chairman - Steve Bishop

Facebook
Admins 4 : Founder Member Stephen Bishop, Cannock Wolves + 2 Members
Steve created the Group on 5th August 2015

CANNOCK WOLVES

★

FOUNDED SUMMER 1977

Gallery
08.08.2019 : Cannock Wolves Chairman Steve Bishop travelled to Armenia - Pyunik Yerevan v Wolves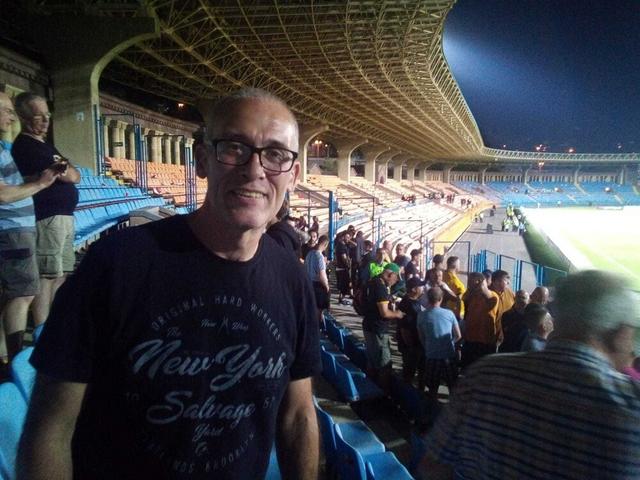 Cannock Wolves fly two new Champions 2018 banners @ Wolves Supporters Clubs Parade 2018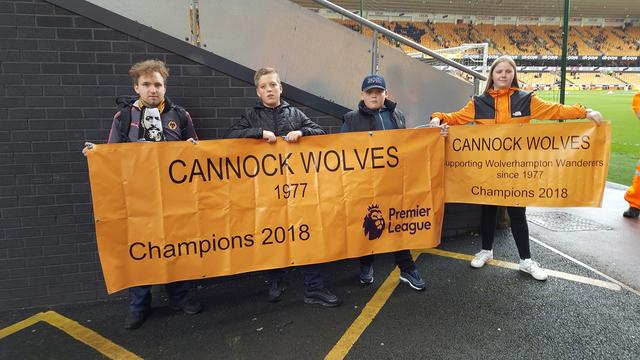 Cannock Wolves members fly two flags (large & small) @ Wolves Supporters Clubs Parade 2017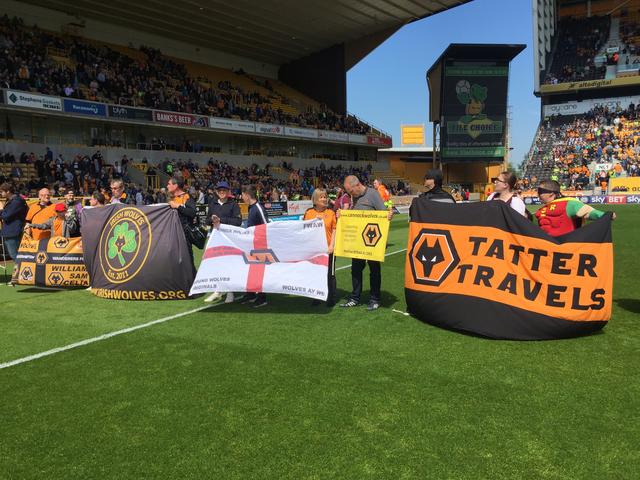 Cannock Wolves flag : WE ARE THE YOUNG WOLVES - WE DO WHAT WE WANT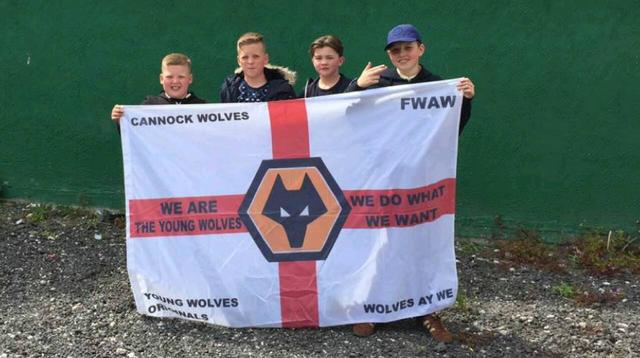 CANNOCK WOLVES Union Jack Flag : Made in November 2018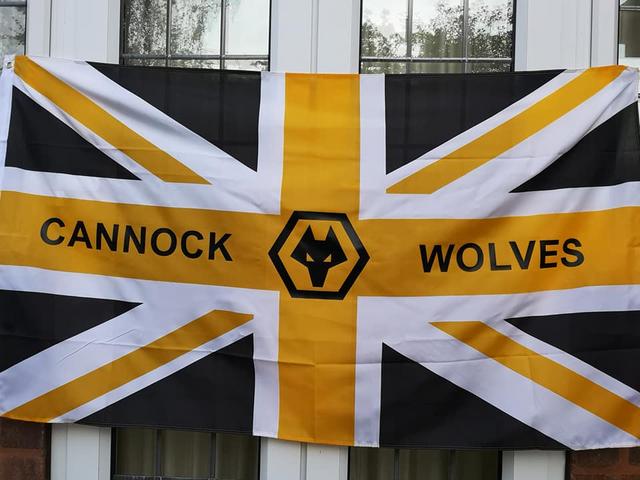 CANNOCK WOLVES flag and members @ The Monks' Retreat - Reading