Supporters Clubs Empresario
Joined

Feb 3, 2009
Messages

11,911
Reaction score

3,387
WOLVERHAMPTON WANDERERS
CALGARY WOLVES
CANADA
FOUNDED 2018
CLUB MEMBERS : 22
CONTACT : Charlie Hunter
WEBSITE : No
FACEBOOK : No
FANZINE : No
UPDATED : 01.01.2022



043 CALGARY WOLVES

★

WORLDWIDE WOLVES OFFICIAL SUPPORTERS CLUB BRANCH



Club Focus

Worldwide Wolves Covid Cup Quiz 2021 Winner - Calgary Wolves

Intro
Calgary Wolves : Founded by Charlie Hunter, welcoming local fans on the journey of seeing Wolves move up to the upper echelons of the Premier League.
Catering for Wolves support in Calgary, a city in the western Canadian province of Alberta, about 300 km south of the provincial capital of Edmonton.
The club have picked up new members in a variety of interesting ways which can be found via the clubs branch information on Worldwide Wolves.
Rob Knight represented Calgary Wolves in the Worldwide Wolves Covid Quiz Cup in March 2021, winning the Cup via zoom to bring it home.

Branch


W

orld

W

ide

W

olves Branch : 043 Calgary Wolves
Season 2018/2019 : Calgary Wolves became an Official Branch of Worldwide Wolves.
Manager Alan Perrins welcomed Chairman Charlie Hunter from Calgary in Canada, allocating Branch No. 043.

Canada
Awarded Official Branch status in October 2018, Calgary Wolves join neighbours Edmonton Wolves, spreading the Wolves name in the province of Alberta.
An Independent Facebook Group WW Wolves of Canada caters for fans spread across the 10 provinces and three territories representing Canada Wolves fans.

DAZN
WOLVES ON PAYTV : PREMIER LEAGUE 2021/22
Please consult the DAZN SCHEDULE for all Wolves matches @ Local Time in Canada over the season.
DAZN : Broadcast LIVE or DELAYED to six countries outside the UK - In Germany, Austria, Switzerland, Italy, CANADA and Japan.
DAZN, the global sports streaming service, will stream every match of the English Premier League 2021-2022 season in Canada.
DAZN has exclusive live media rights for coverage of the Premier League in Canada for the three seasons between 2019 and 2022.

Meets
Branch Meets take place at : 651, Everridge Dr, SW Calgary.
Members come ridiculously early to watch games at 8 a.m. or earlier.
Calgary Wolves provide a free hot buffet breakfast with vegetarian options for their game viewings.

Yerevan
One Calgary Wolves member and his wife were at the FC Puynik Europa League game in Armenia in the autumn of 2019.
After obtaining tickets through his travel agent in Yerevan, so there were actually 2 more Wolves fans than the number of 48 reported!

Cavalry FC
03.09.2021 : Chairman Charlie Hunter reports - Ex-Wolves player, Joe Mason, is now playing for Cavalry FC in Calgary, Canada, in the Canadian Premier League.
This season at every home game, Calgary Wolves have put up a large banner near where we sit. Yesterday in the Wolverhampton newspaper, the Express and Star, there was an article about Joe's soccer career. Regarding his time so far in Calgary his comments include: "There is a big Wolves flag at our games with my initials and number on it so there must be some Wolves fans here as well," says Mason. "That is something that was really nice to see at my first game. "I haven't managed to meet them just yet as we still have to be careful around Covid but I'm really appreciative of it and will hopefully be able to say hello soon." (The banner can be seen in the Gallery below..)

On the pitch, Calvary are currently in second position in the league table – recently beating leaders Pacific 2-1 with Mason grabbing both goals in what has been another promising start. "It's still the same feeling when the ball hits the net and gives me the drive to go out and carry on getting as many goals as I can," he adds. "I am still hungry to succeed and do well, just in a very different environment."

02 09 2021 : Express & Star - Outdoor life is the one for Joe Mason

Membership
Calgary Wolves
The club promotes Wolverhampton Wanderers in Calgary, Alberta, Canada.
Prospective members : Please contact Charlie by clicking the Worldwide Wolves link above.

CALGARY WOLVES

★

FOUNDED AUGUST 2018

Focus
2021 : WORLDWIDE WOLVES - BRANCH IN FOCUS - CALGARY WOLVES




Gallery
15.12.2019 : Calgary Wolves in the Worldwide Wolves Lounge, flying over for Wolves v Spurs



21.03.2021 : Calgary Wolves representative Rob Knight won the 2021 Covid Cup Quiz via zoom
Rob is top right, supported by his Chairman Charlie Hunter, middle left on the zoom photo below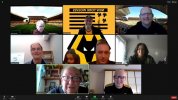 14.08.2021 : Calgary Wolves club meet v Leicester, somewhat subdued down 1 to Jamie Vardy!


Calgary Wolves banner : Cavalry Football Club - #20 Joe Mason (Canadian Premier League)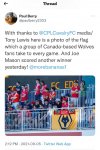 01.12.2021 - Calgary Wolves in the WWW Lounge and interviewed on Wolves TV pre-Burnley