Supporters Clubs Empresario
Joined

Feb 3, 2009
Messages

11,911
Reaction score

3,387
WOLVERHAMPTON WANDERERS
BERLIN WOLVES
GERMANY
FOUNDED 1998
CLUB MEMBERS : 400
BERLIN BASED MEMBERS : 25
CONTACTS : Phil Painter, Veronika Fabisiak
WEBSITE : No
FACEBOOK :
Berlin Wolves (Founded 1998)
FACEBOOK MEMBERS : 410
FANZINE : No
UPDATED : 22.05.2022
009 BERLIN WOLVES
★
WORLDWIDE WOLVES OFFICIAL SUPPORTERS CLUB BRANCH
Club Focus
Worldwide Wolves Clubman of the Year 2018/19 - Phil Painter / Berlin Wolves



Intro
Berlin Wolves : Known locally as Berlin Wölfe. Welcome to the home of Wolves support in the German capital and across Germany.
The Fan Club was founded on 24th July, 1998 in the Alten Försterei, the day Wolves beat 1.FC Union Berlin 2-1 in Berlin-Köpenick.
The five local Founder Members who met up in Köpenick are : Paul Jones, Kevin King, Philip Painter, Paul Rowley and Silke Stetefeld.
Since 1998, Berlin Wolves have had 25 hardcore members meeting for events in Berlin, and a further 20 members across Germany.
Total Membership : Urban Berlin, across Germany, back home in the UK and Worldwide, were 60 Original Members up to April 2015.
Since then on Facebook, the club was open to Wolves fans Worldwide, interested in our news, and to contribute as Group Members.



NEXT BERLIN WOLVES MATCH MEET : ANNOUNCED HERE - BLARNEY PUB, BERLIN-KREUZBERG
Branch
W
orld
W
ide
W
olves Branch : 009 Berlin Wolves
Season 2018/2019 : Berlin Wolves became an Official Branch of Worldwide Wolves.
Manager Alan Perrins welcomed Chairman Phil Painter from Berlin in Germany, allocating Branch No. 009.
Lounge
2022/23 : Worldwide Wolves Lounge. Please show you Worldwide Wolves Membership Cards.
Berlin Wolves members have attended the Lounge every home game since the Grand Opening on 20.10.2018.
Branch Organiser Veronika Fabisiak met members who had been allocated Free Lounge Passes in the lobby downstairs.
Veronika took the club flag into the Lounge. Members have had pictures taken with it, alongside Wolves Legends like Mel Eves and Steve Bull.
Programme
Congratulations to Berlin Wolves team.. Editors Sylvie & Veronika, Proof Reader Sharon & Contributor Wayne on producing a great Worldwide Wolves match programme.
04.05.2019 : Unofficial Worldwide Wolves matchday programme, with articles on Steve Bull, Mel Eves, a word from the Team Captains and more.
Available in the Worldwide Wolves lounge and at the Worldwide Wolves match tomorrow, limited edition - only 100 printed - £2.
All profits going to Dementia UK and Cure Leukemia, along with the money from the raffle in the lounge.
Anniversary
09.11.2019 Berlin Wolves are planning to celebrate the 30th Anniversary of the Fall of the Berlin Wall.
Berlin based members will meet at 12 noon at Checkpoint Charlie for pics with the fake Border Guards
Scroll down for five pictures taken around the Checkpoint Cabin. The fake Border Guards were banned
!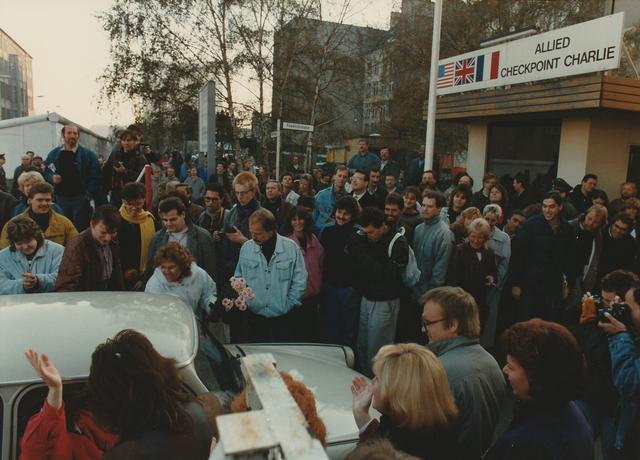 © Allied Checkpoint Charlie picture is the Copyright of Berlin Wolves, thank you
Berlin
Berlin based members are scattered across this vast city, some living an hour or more from each other by public transport.
Berlin Wolfs homes are in the disctricts of Charlottenburg, Kreuzberg, Neukölln, Prenzlauer Berg, Schöneberg, Spandau & Tempelhof.
Match
Match information has been added to this page to co-ordinate meetings - and as a source for Non Facebook Members.
Berlin based members can choose.. A Live Wolves game in the Blarney Pub when listed, or via a lap top or mobile phone, at home or or Sky
SKY
WOLVES ON PAYTV : PREMIER LEAGUE 2022/23 - SKY DEUTSCHLAND
EXCLUSIVE RIGHTS! PREMIER LEAGUE FOOTBALL UNTIL 2024/2025 IN GERMAN
Y
Pub
Wolves matches LIVE in Berlin
Berlin based members meet for selected televised Wolves matches @ the Blarney Pub in Berlin-Kreuzberg
Website : Blarney Pub Berlin
Listed
ONLY
LISTED
BT Sport / Sky matches @ Local German Time!
04.03.2016 : Blarney Pub, Berlin-K/Berg, Middlesbro v Wolves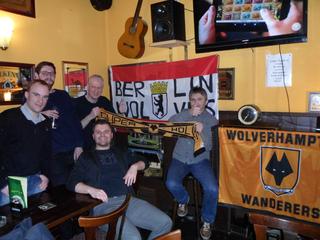 11.08.2020 : Blarney Pub, Berlin-Kreuzberg, Wolves v Sevilla



21.09.2020 : Blarney Pub, Berlin-Kreuzberg, Wolves v Man City


19.01.2019 : Wayne Devaney - Berlin Wolves Branch Certificate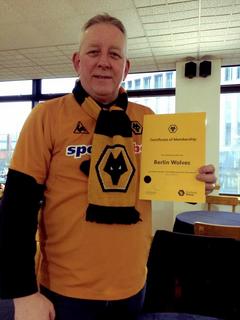 Badges
Berlin Wolves have issued three club badges
2001 - A Limited Edition badge of 300
Club Badge - Long nosed German Wolf design
2008 - A Limited Edition badge of 150
10 Jahre - 10th Anniversary badge
2013 - A Limited Edition badge of 150
15 Jahre - 15th Anniversary badge
1999 - A Members Picture Badge exists too
1st Anniversary Party dated 24.07.1999
POTS
BERLIN WOLVES PLAYER OF THE SEASON 2021/22 - JOSE SA
Flags
Berlin Wolves two flags made an appearance at the Wolves Supporters Clubs Parade before the Preston home game on 7th May 2017.
The flags were again on display at the Wolves Supporters Clubs Parade before the Sheffield Wednesday home game on 28th April 2018.
Over the years, the flag has been displayed at Molineux, on Wolves Summer Tours around Europe - and The Blarney HQ Pub in Kreuzberg.
In Germany 1998, Sweden 1999, Ireland 2000, Portugal & Belgium 2001, Norway 2004, Holland 2005, Neufeld in Bern, Switzerland 2018.
Berlin Wolves new Union Jack flag was flown at the Opening of the Worldwide Wolves Lounge in the Steve Bull Stand on 20th October 2018.
Fanzine
12 Berlin Wolves fanzines were
issued for members 1998-2002.
Travel
Group : 7th Annual Club Trip - Berlin to Wolverhampton
09.05.2020 : Wolves v Crystal Palace - Last home game of the 2019/20 season.
Wolverhampton.. Described by club member Fireman John as.. Gods Paradise on Earth!
Members Phil, Volkmar and Paul from Berlin have booked 5 nights at Manchester Central Travelodge.
We shall travel down to Wolverhampton from Manchester Piccadilly Rail Station on the morning of the game.

The Six Annual Club Trips since 2014..
03.05.2014 : 3-0 : Wolves v Carlisle United
02.05.2015 : 4-2 : Wolves v Millwall
07.05.2016 : 2-1 : Wolves v Sheffield Wednesday
07.05.2017 : 1-0 : Wolves v Preston North End
28.04.2018 : 0-0 : Wolves v Sheffield Wednesday
04.05.2019 : 1-0 : Wolves v Fulham
Individual/Group : Members travel to Molineux throughout the season from wherever they are based.
Post Match Drinks : Lych Gate Tavern (Upstairs Bar) / Night Matches : The Moon Under Water - JD Weatherspoon
Website : The Lych Gate Tavern Wolverhampton
Midweek Matches / Overnight @ Redwings Lodge
Website : Redwings Lodge Wolverhampton
Award
Worldwide Wolves Clubman of the Year 2018/19 - Phil Painter, Berlin Wolves
Phil, a member of Berlin Wolves and Molineux Mix, won the award after being instrumental in helping to launch Worldwide Wolves in its inaugural season.
Phil was awarded a Worldwide Wolves 'Honours Cap' which will be displayed at Molineux in a growing hall of fame.
13.05.2019 : Wolves Official - Worldwide Wolves celebrate award winners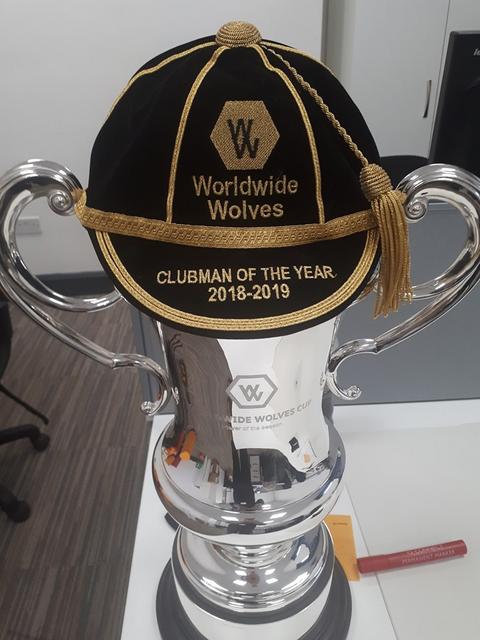 Membership
Berlin Wolves (Founded 1998)
01.11.2021 : Berlin based members 25 - Facebook membership 390.
Prospective Club Members : Locally based Berliners,

SEND

a message today.
New Facebook Members
:
Fans based in Berlin, Germany, Worldwide are welcome.
Prospective Facebook Members : Please click

JOIN

and wait for Admin approval, thanks.

Contact
Berlin Wolf
Molineux Mix Member
Facebook
Admins and Moderators 3
Admin - Founder Member Phil Painter
Moderators - Tim Nash, Veronika Fabisiak
Phil created the Group on 22nd April 2015
WOLVERHAMPTON WANDERERS BERLIN SUPPORTERS CLUB
★
FOUNDED 24TH JULY 1998

Focus
2021 : WORLDWIDE WOLVES - BRANCH IN FOCUS -
BERLIN WOLVES


15.05.2022 : World Wide Wolves - Berlin Wolves up in lights at half-time v Norwich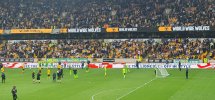 Video
05.02.2019 : Berlin Wolves Official Worldwide Wolves Branch / Promotion Video
Music Credit : Berlin Berlin (Radio Edit). Talstrasse 3-5 feat. Ellen Pitches - Berlin Berlin

01.11.2021 : 7th HEAVEN - Wolves 2 Everton 1 Instant Fan Reaction - Dazzling Dave
Featuring Berlin Wolves member Matt Carter aka Ruben Neves from Berlin-Neukölln

Soundtrack
Berlin Wolves Official Soundtrack for the WWW Official Branch Video - BERLIN BERLIN
Gallery
ACHTUNG! DANGER! Wolves fans ONLY! Berlin is a Tesco Carrier Bag FREE ZONE!

© East German Border Guard picture is the Copyright of Berlin Wolves, thank you
24.07.1999 : Berlin Wolves First Anniversary celebration at the Cafe Veritas in Berlin-Wilmersdorf

Berlin Wolves flags @ the Blarney Pub in Berlin-Kreuzberg : The club HQ for Wolves Live Sky matches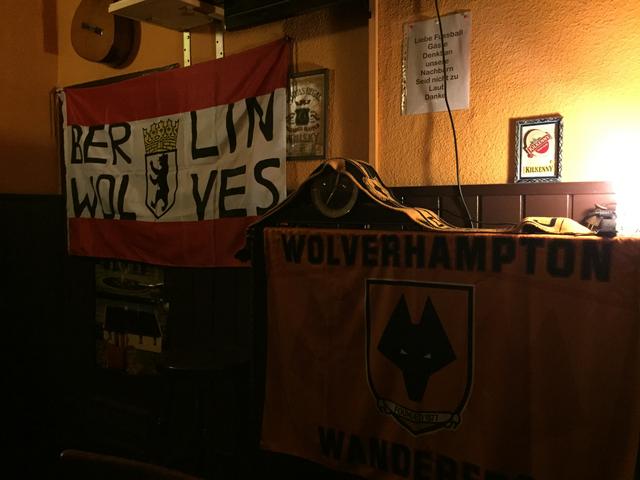 04.05.2019 : Berlin Wolves Ed Blackwell represented Overseas Wolves in a 4-1 defeat to UK Wolves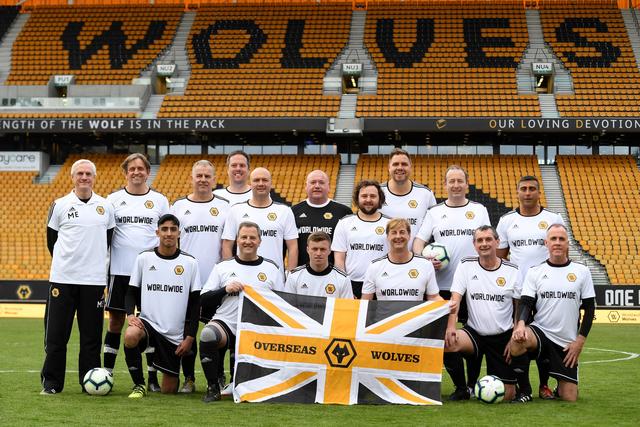 07.04.2019 : Berlin Wolves members on their way to Wembley for the FA Cup Semi-Final vs Watford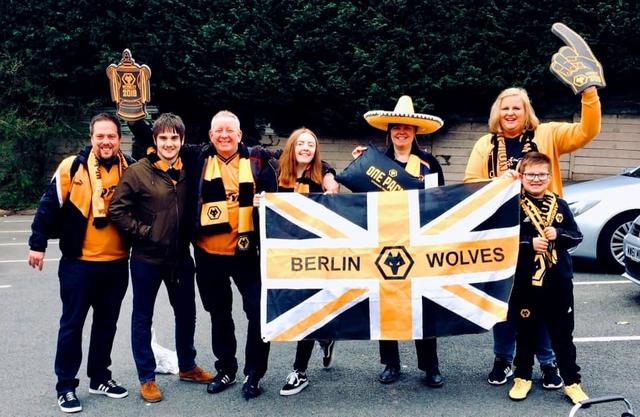 Berlin Wolves flag @ Molineux : Wolves Supporters Clubs Parade 2018 - Phil, Volkmar & Paul Rauner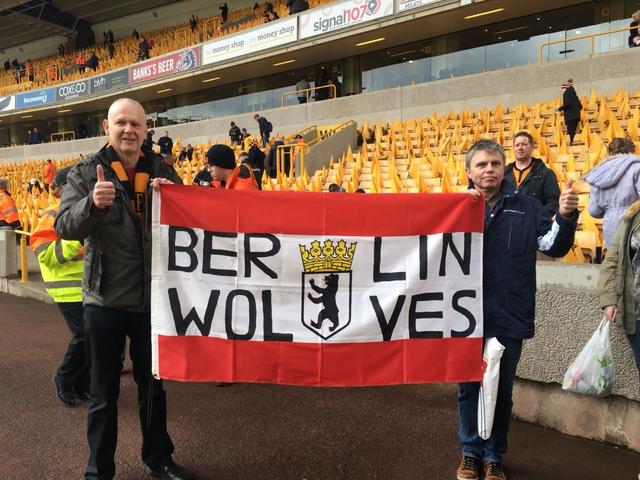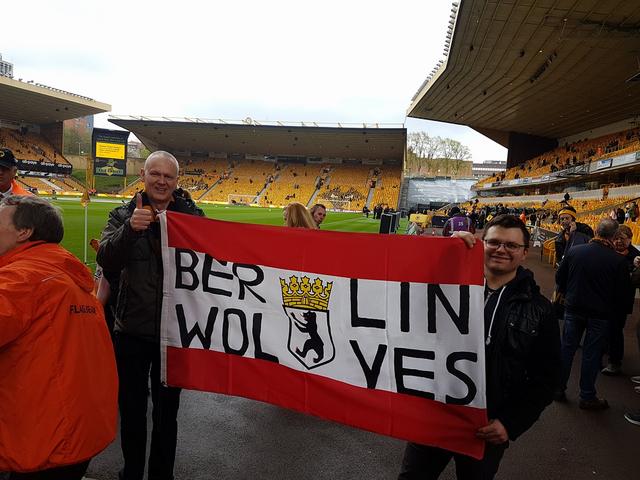 Berlin Wolves flag carried around the pitch @ Molineux - Wolves Supporters Clubs Parade 2017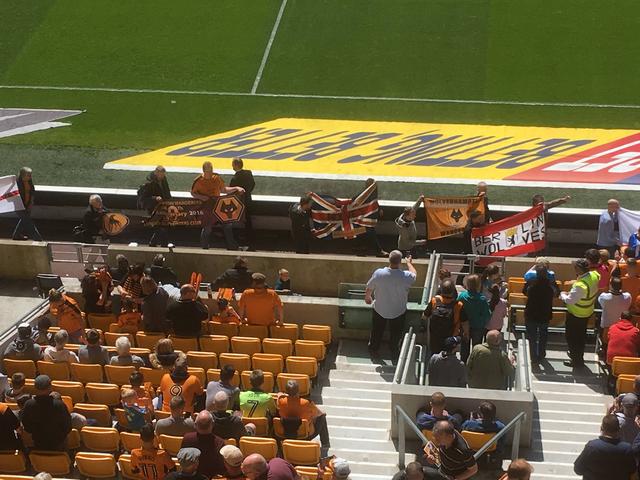 Berlin Wolves Wolverhampton Wanderers flag @ Molineux - Wolves Supporters Clubs Parade 2017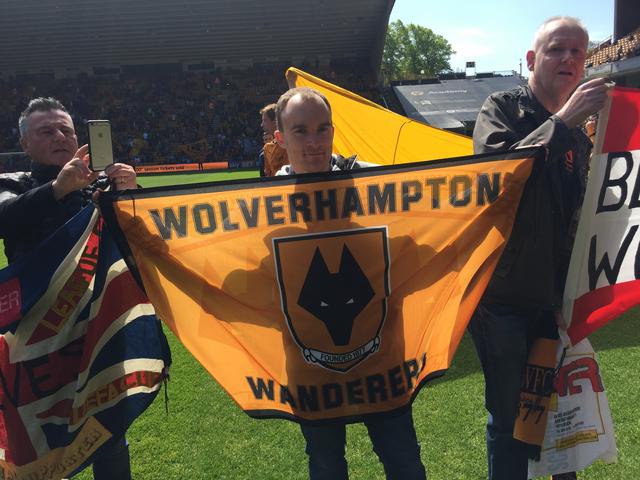 18.07.2001 : Coach to Leiria - Berlin, Brighton, Cannock, London, Swede Wolves - Portugal Tour 2001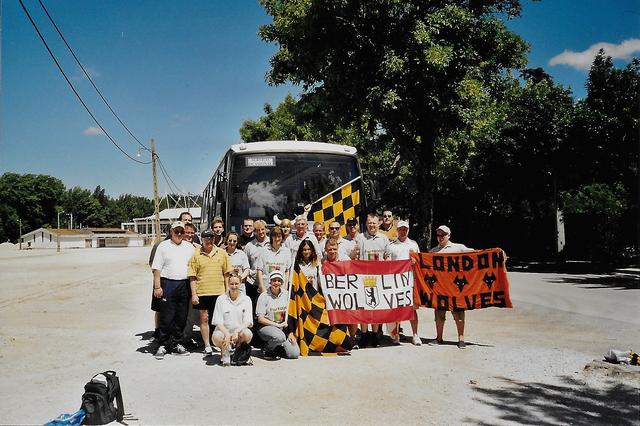 21.07.2001 : Away Block - Wolves flags and travelling fans @ Alverca in Lisbon - Portugal Tour 2001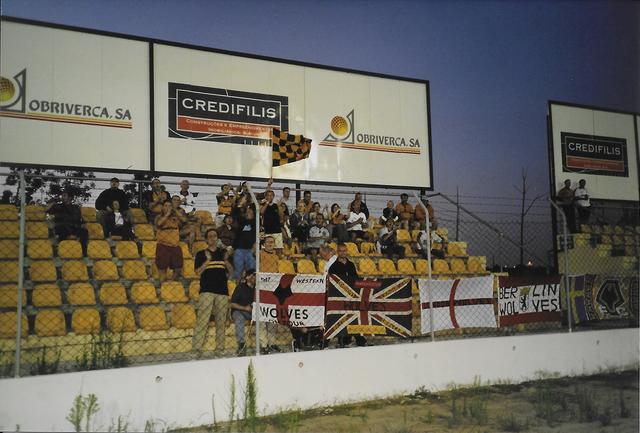 21.07.2000 : Berlin & MCR Wolves flags - Mike Stowell and fan @ Kilkenny City - Ireland Tour 2000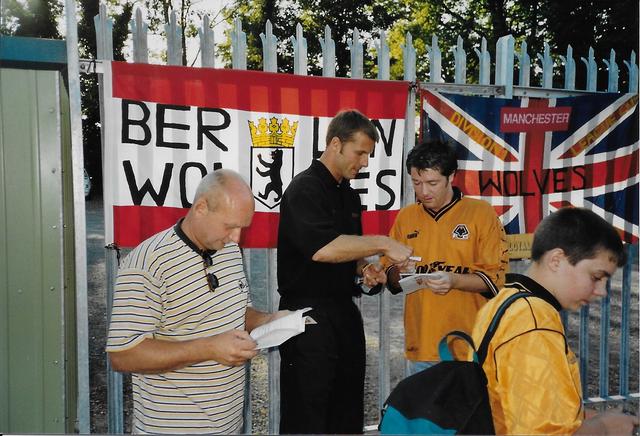 21.07.2000 : Berlin Wolves flag - Unbeaten Tour Celebration @ Hotel Kilkenny - Ireland Tour 2000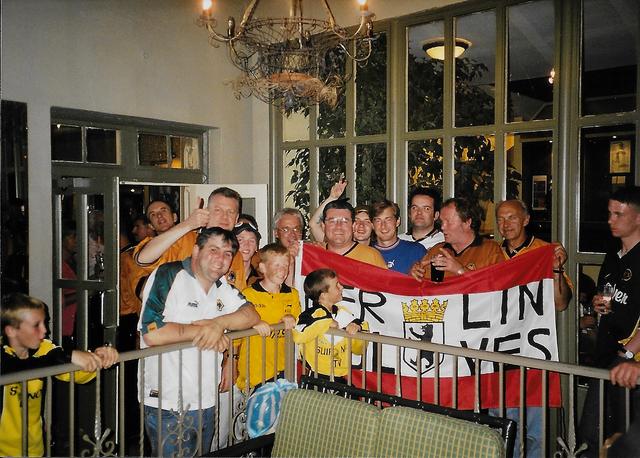 21.07.2000 : Berlin Wolves & Mad Finn flags - The Irish Bride @ Hotel Kilkenny - Ireland Tour 2000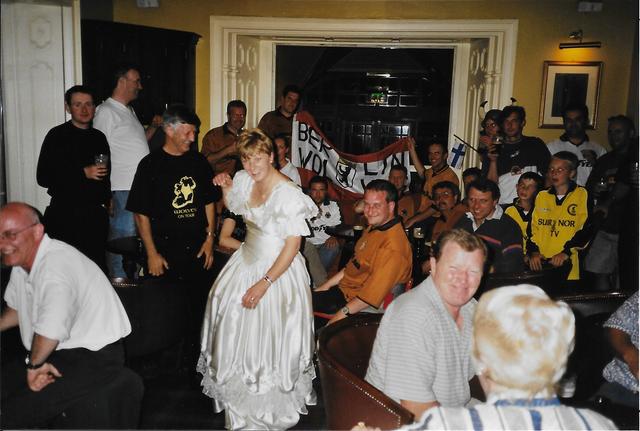 16.07.1999 : Wolves fans and row of flags - Berlin Wolves flag @ IFO Brömolla - Sweden Tour 1999
24.07.1998 : 1. FC Union Berlin v Wolves Teams Pic @ Berlin-Köpenick - Austria/Germany Tour 1998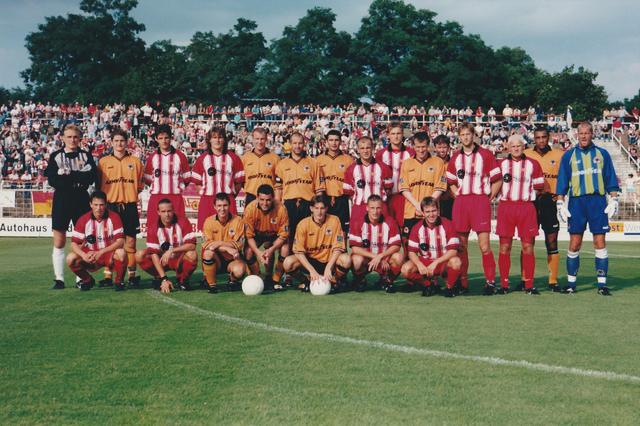 24.07.1998 : 30 Wolves fans - Visitors Block @ An Der Alten Försterei - Austria/Germany Tour 1998